Sponsor the 2014 St. Patrick's Day Parade & Festival in Downtown Hollywood, Florida!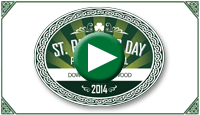 The St. Patrick's Day Parade & Festival is presented by the Hibernians of Hollywood in partnership with the City of Hollywood. We are currently seeking sponsors for the 2014 Parade and Festival set to fill the streets of Downtown Hollywood on March 9th from Noon to 6:00 p.m.
Download the sponsorhip form here.
Place your business in front of thousands in the heart of Downtown Hollywood as you join the celebration of all things Irish. This free event features a traditional float parade, an afternoon of live entertainment, children's activities, Irish merchandise, food & beverages.
• Anticipated Attendance 12,000+
• Family-friendly
• Regional event attracting residents and visitors from across Broward and Miami-Dade Counties
For sponsorship information contact Mike Saffran, 954-658-3894

Learn about the history of St. Patrick's Day and how it's celebrated worldwide at www.st-patricks-day.com